Lead Clip onto Leadcore Leaders

How I set up my lead clip carp rigs onto leadcore leaders. The leaders are all pre-tied at home, and there is a choice of colours. To save time & effort I use a quick change system for all my leaders.
The photo above shows a carp rig set up using a plastic lead safety clip attached to leadcore. I attach my hook link at point "A". It can be tied or, I prefer to form a loop in the braid, then use a metal clip to link it to the leader. I prefer to clip on my hook links because it enables me to change it and try a different rig at any time during my fishing session. I also cover the clips by using a piece of silicone tubing (not shown in photos), the tubing will be the same colour as the lead clip.
I attach the lead weight to the lead clip at point "B". I place the lead clip rubber on loosely if fishing for carp near snags or weed beds. Doing this will allow the lead weight to drop off quickly when a carp takes the bait, and enables the fish to shoot to the surface of the water for easier control during the play.
Attaching a lead clip onto leadcore using a bait needle. Repeat the process for the rubber but, remember to slide it on the right way round!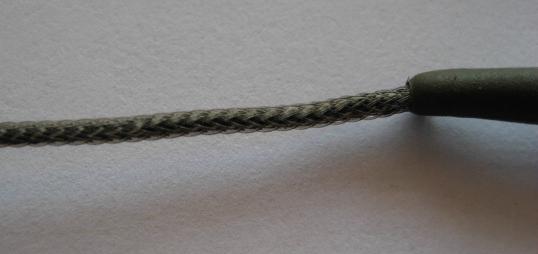 A close up photo of the rubber end of the lead clip and the leadcore leader. The rubber must not be a tight fit, it needs to be able to slide down the leadcore fairly easy. This enables the lead clip to work properly, making the weight pull out of the lead clip if the lead weight becomes snagged.
Many More Carp Rigs here:
Using Lead Safety Clips when Fishing for Carp
A Helicopter Carp Rig on Leadcore Leader
A Semi-Fixed Rig on Leadcore Leader
A Running carp Rig Attached to Leadcore Leader
We have lots of new carp rigs that I guarantee have caught carp in the past. Check out the next links!
Real Maggot Critically Balanced Carp Rigs
Critically Balanced Fake Maggot Carp Rigs
How to PVA Bag a Balanced Pellet Carp Rig
Which type of carp rig should be used; a fixed or running rig system
The best carp fishing rigs for catching the big carp
List of all our Carp Fishing Articles & Information